International Time Vault

"Time is an illusion. Lunchtime doubly so." -Douglas Adams
Mission Statement:
Passengers in the Time Vault are not driven by their past, but pulled by the future... in shady splendor! The Space-Time Serendipity Drive takes them less where they want to go, and more where they need to be: Fully present in the moment. Memories flash and tumble , manifested in the Wheel of Time trailing behind. A shift occurs in the perception of time for both riders and observers of our passage, ablaze with light, color, and whimsically interactive timeplay.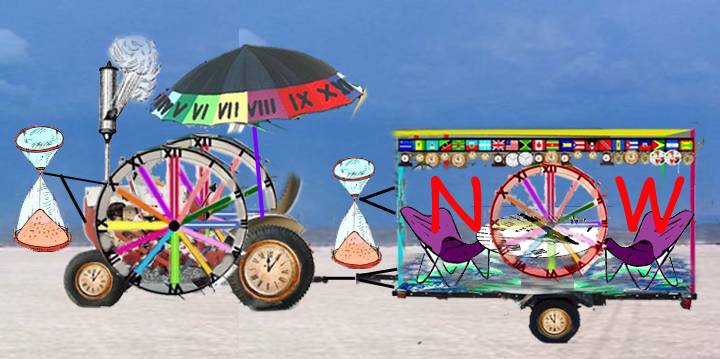 Special thanks to Giora for this graphic rendering!
Hi
Mutant Vehicles, formerly known as Art Cars, have become an important part of the Burning Man experience. Hi. My name is Mister Jellyfish, the Camp Mutant Vehicle Coordinator for the Black Rock Burner Hostel under the gentle guidance of "Hageyman".
I am a Virgin to Burning Man so I may have unreasonable expectations of the event or make stupid comments from time to time... kindly bare with me. To my credit, I have explored the playa and surrounding hot springs a few times. Living in the Reno/Sparks area sure has its advantages!
If you would like to contribute resources, work, ideas, or a donation to this project, please click the appropriate link on the left and sign the guest book to share your vision. Be sure and check back often to the Progress page for pictures and updates. Cheers!